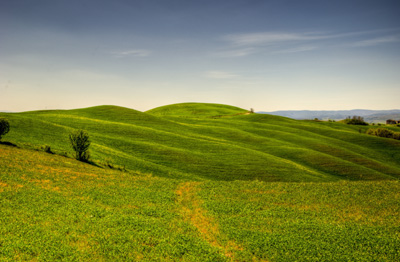 La Toscana è una delle regione più celebri al mondo, in special modo le zone intorno a Firenze e Siena, dove, si gode l'armonia che unisce l'uomo alla natura.
Qui si alternano coltivazioni ordinate di vite ed olivo tra le case coloniche che danno al visitatore un senso di equilibrio e di elegante bellezza.
Immerso nel Parco Naturale dei Calanchi tra le colline del Chianti si trova l'Agriturismo Le Buche di Viesca, dove prevalgono la quiete e la tranquillità ed è poco distante dalle più importanti città d'arte: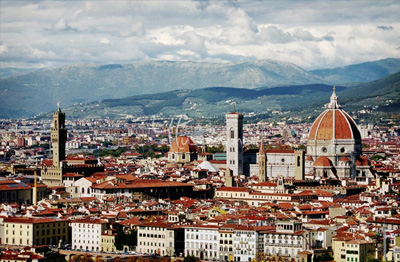 The typical Tuscan landscape most famous in the world is that of plains and hills, in particular in the area around Florence and Siena, where more than in any other part one can enjoy the harmony which unites man with nature.
Here orderly cultivations of vines and olives alternate, which give the visitor a sense of balance and elegant beauty. Inside of Natural Reserve of Parco dei Calanchi is possible to find the Agriturismo Le Buche di Viesca, surrounded by the magic quiet of typical Tuscany countryside, only a few miles distant from the main important art cities of the area: Siena, Arezzo, San Gimignano, Montepulciano.
Figline Valdarno, small city with a wonderfoul old Square, surrounded by shops and restaurants, where the guess can use the train station with direct connections to Stazione Centrale in Florence in only 20 minutes. The town has every cain of services (restaurants, supermarkets, shops).

Firenze, with no doubt one of the most renown in the world, Florence owns a unique art heritage both in terms of quantity and variety, that is impossible to describe on just few words.
In the southern area of Florence, the Florentine Chianti, merged in vineyards and olive-groves, and thick woods, among gently sloping, mane-hued green hills offers the most beautiful landscapes.

The main districts of Chianti Classico, as Radda, Gaiole and Castellina, until the Chianti of Siena's areas, still preserve a weel importance for their.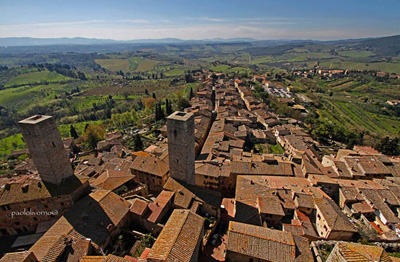 Siena, renowed Historical center on the the top of an hill between the valley of the river Arno and the river Elsa. Siena was an ancient Etrusca settlement, conquered later on by the Romans, while in the middle ages it was constantly the main rival to the nearby Florence. Piazza del Campo, undoubtedly one of the most beautiful squares in Europe, is the symbol of the town, where every Summer, the famous Palio takes place.
Arezzo, historical centre situated on the top of a hill, maintains a distinct Medieval aspect: the Catedral, the City Palace abd the Medici's Fortress are praiseworthy examples of times architecture.
San Gimignano, suggestive small centre with its towers, located on the top of a hill overlooking Val d'Elsa area, that offers to the tourist beautiful landscapes and unique natural sightseeings.
The Mall, 7 km from the Farmhouse, there is one of the most important fashion outlet (Gucci, Valentino, Tod's, Valentino, Zegna, Armani, Hogan, Diesel, ecc), where you can buy things with 70% discount.
• Airports: Aereoporto di Firenze - Aereoporto Galileo Galilei a Pisa